Features of the energy spectrum of cosmic rays reflect their origin, acceleration and propagation. The ankle (flattening above about 1019eV) and the GZK cutoff are such features expedcted in the extremely high energy range. The investigation of these features in the energy spectrum is one of the most important scientific challenges.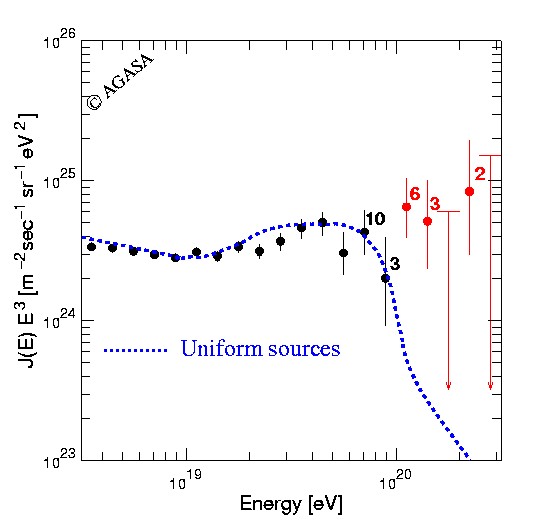 Figure 2: AGASA Energy Spectrum [ EPS ]
The AGASA energy spectrum is shown in Figure 2 , multiplied by E3 in order to emphasize details of the steeply falling spectrum. Error bars represent the Poisson upper and lower limits at 68 % and arrows are 90 % C.L. upper limits. Numbers attached to points show the number of events in each energy bin. The dashed curve represents the spectrum expected for extragalactic sources distributed unifomly in the Universe, taking account of the energy determination error.
| | |
| --- | --- |
| Epoch: | Feb. 17, 1990 -- Jul. 31, 2002 |
| | This result is published in Astroparticle Physics . |
| Exposure: | 5.1 x 1016 m2 sr s |
| Zenith Angles: | < 45o |
The energy spectrum presented here extents up to higher energies than the previous results; eight events were observed above 1020eV. If the real energy spectrum is that shown in Figure 2 as the dashed curve , the expected number of events above 1020eV is less than one, taking account of the energy resolution. The energy spectrum is therefore more likely to extend beyond 1020eV without the GZK cutoff. However, it is also worth noting that the observed energy spectrum suggests a small deficit just below 1020eV, whose significance is not compelling. This deficit may imply another component above the GZK cutoff energy.
Here is our PRL publication on the energy spectrum.
The paper on the systematics uncertainty of energy determination is accepted to Astroparticle Physics, and you can find this draft here .